"
Our care of a child should be governed,
not by the desire to make them learn things,
but by the endeavor always to keep
burning within him that light
which is called intelligence.
"
~
Dr. Maria Montessori
Hello & Welcome!
I am so excited for you to join this amazing community of like-minded parents and educators! I know your goal is to connect with your child and add a sparkle of enchantment to your learning environment. So, let's embark on this journey together to ensure that your child grows to their fullest potential!
This is for you IF ...
you want to take action NOW & not miss your child's sensitive windows of opportunity
Children till 6 years of age are endowed with the gift of the absorbent mind. They go though time-sensitive specifically predefined windows of sensitivity when they are particularly equipped to absorbing information spontaneously as if without conscious effort. Do NOT miss those 'window' since once they are closed, they do not reopen.
you realize social media's picture-perfect SET UPS are useless
You are tired of swimming in the vast ocean of social media without seeing the shore. You are done pinning and saving activities, which you never bring to life either due to lack of resources, knowledge, or relevancy. You want to free time to do what brings you & your family most joy!
you want to add a spark of enchantment to your homeschooling journey
You are a parent, a grandparent, a caregiver, or an educator of a toddler, preschooler or a kindergartener (ages 18 m - 7 yr), and you wish to stimulate hands-on experiential learning-by-doing. You realize that passive consumptive type of education is ineffective, and you wish to explore learning in a creative way.
But first, let's ensure that my emails do not end up in your spam folder. You would need to mark them as "safe."
To ensure that my emails land in your inbox, please add me to your Contacts AND move my email from your Promotions folder (if it lands there) into your Primary folder (Gmail users).
Montessori You Can Do

Children
naturally
want to learn, just like all living things naturally adapt and evolve! Our job as parents and educators is to
ignite
or
awake
the
passion for learning
! And let me tell you, theories and workbooks do
not
kindle the fire!

Curiosity
and
novelty
do
that!
As children are innately curious creatures!
So, we need to learn to nurture the thirst for knowledge,
and spark the passion for wonder by capturing child's
Imagination,
Inclinations &
Interests
!
THE 3 I I Is.
AIMS of Homeschooling
The Montessori Way
To Ignite The Love of Learning
By preparing a sufficiently stimulating, aesthetically inviting, and orderly environment, we help cultivate the joy of learning.
To Develop the Whole Child
By following a child's developmental needs, inclinations, interests, and progress, we can help develop the whole child intellectually, socially, emotionally, and physically.
To Empower the Child
By espousing independent thinking and creative problem-solving through experimental learning, we empower a child to be responsible, respectful, confident, and intellectually curious.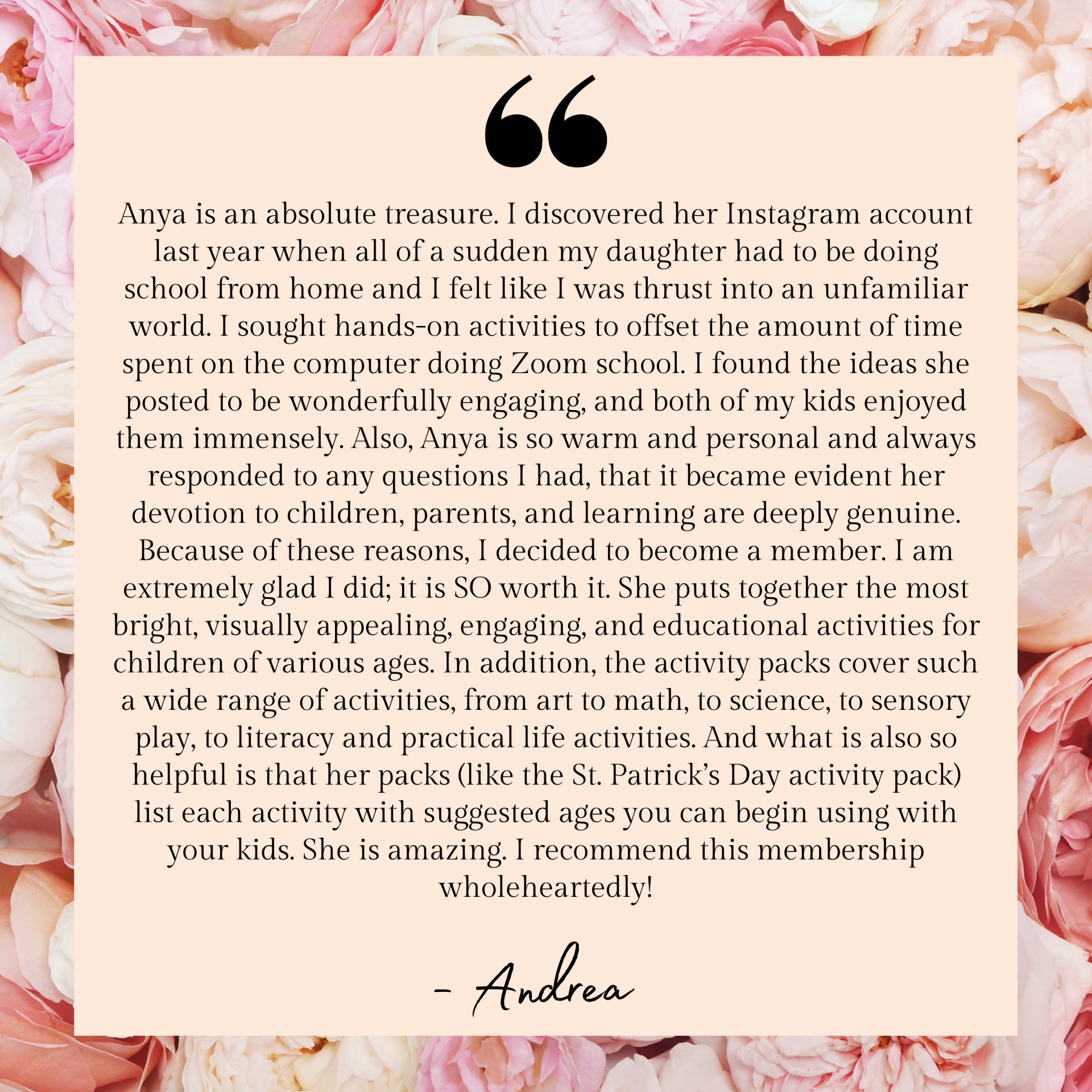 Or Purchase Individual Courses 🎓
This is not a recurring membership!
You pay a one-time fee with lifetime access, as long as Montessori From The Heart is online.There are no hidden costs or paying extra for new lessons or PDFs. I will be adding new activities, lesson plans, and printables periodically.

Who is Dr. Maria
Montessori
Montessori Celebrities Worth Mentioning:
Larry Page and Sergey Brin (Google founders)
Jeff Bezos (Amazon founder)
Julia Child (Celebrity chef & author)
George Clooney (Academy award-winning actor, director, producer, humanitarian, United nations messenger of peace)
Erik Erikson (the Danish-German-American psychologist and psychoanalyst known for his theory on human social development, coining the phrase "identity crisis." Erik found Montessori ideas so compelling that he studied them as an adult, acquiring a Montessori teaching certificate but never teaching in a classroom.)
Why and Who is Montessori
FREEBIE 🖨 click below to get your PDF
What Our Members Have to Say
"I am so pleased with this membership. Not only is there a vast information and knowledge put together to let me start right away but Anya is making the membership truly special. Her dedication and joy to learning and Montessori as well as exceptional response time and customer service to any of my enquiries make this journey for my children and myself a wonderful and enjoyable experience."
Fiona S.
"I continue to be impressed with all that Anya has created with this membership. There are SO many amazing resources, in every topic imaginable! Adaptable to various ages, there is an abundance of ideas, activities, and explanations of concepts. I have learned so much myself! In addition, everything Anya has put together is so colorful and visually appealing, it makes things that much more engaging for children. Further, Anya is one of the most responsive and truly caring people on social media. ANY time I have had a question, need clarification, or help finding something, she responds quickly and thoroughly. Her warmth and care has been so consistent, ever since I first discovered her account on Instagram last year, right in the beginning of the pandemic quarantine time. She was a tremendous help to me while we had to do virtual school at home via Zoom, and her activities were and continue to be favorites with my children. She is also an inspiration to me overall as a woman, wife, and mother. Brava, and THANK YOU, Anya!"
Andrea U.
"I really cannot recommend Montessori from the heart with Anya enough to all parents. She has opened our lives to the world of Montessori and learning through play has never been more enjoyable. This membership has everything you will ever need on all subjects such as botany, science, culture, literacy, numeracy and many more. The lessons are brilliantly researched and easy to follow. No more scrolling on the internet anymore. Anya is very positive and you can tell from following her Instagram that she really loves what she does. I am delighted I found this membership and want everyone to know if anyone is looking to add fun, gentle, teachable moments into your child's life, it will be the best gift you can give your child."
Grainne O'D.
FAQ Frequently Asked Questions
Is this a membership with recurring monthly fees?
FAQ 1: No, this is not a recurring membership! You pay a one-time fee. There are no hidden costs or paying extra for new lessons or PDFs. I will be adding NEW activities, lesson plans, and printables periodically. I do have a Montessori Made-Easy Membership, which gives you access to most courses ~ you can check it out
HERE
.
How long do I have access to eMontessori From The Heart School courses?
FAQ 2: Lifetime access is available with full payment and is available for as long as eMontessori From The Heart School courses are online.
When can I access eMontessori From The Heart School courses?
FAQ 3: As soon as you purchase, you will have full access. You will need to create a user name and password login. Then you will see the courses that you have purchased. No documents (pdfs) will be emailed or physically sent to you.